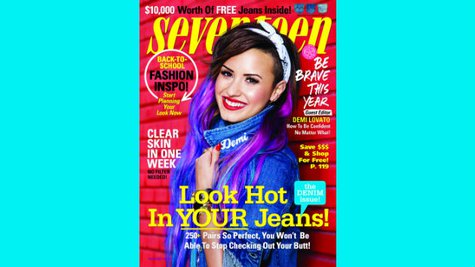 Demi Lovato doesn't just grace the cover of Seventeen magazine's August issue : she's also the guest editor. Inside the magazine, she shares lessons she's learned from her own life that readers can apply to theirs. For example, she recommends avoiding impulsive tweeting.
"I'm impulsive when it comes to fighting back, but I've learned to reel it in," she tells the magazine. "Tweeting without thinking does more harm than good. So take a second. Journal what you want to say, and then if you still feel the same later, that's when you can tweet it."
Demi also says that cutting toxic people out of your life is the right move -- though she won't name who those toxic people were in her life.
"I like to have friends in my life who believe they're going places and are working toward their dreams. When you're growing and the people around you aren't, that's when you have to start shedding them," she tells Seventeen . "I've done that a lot over the past few years, but it has been so worth it, because the people in my life today inspire me to keep being creative, to have fun, and to be a good person."
One big problem that girls have to face these days is lack of confidence. Demi has some good advice for how girls and their friends can support each other when they're plagued with insecurities.
"I tell myself five things that I'm grateful for, for every negative thing that I think," she suggests. "Another cool thing girls can do: You know how people have swear jars, where if you swear you have to put a dollar in the jar? You could do that with feeling insecure: every time a friend says something bad about themselves, they have to put a dollar in a jar...[then] you can donate it to charity."
Another piece of advice from Demi involves the lessons she's learned since she sought treatment for her bipolar disorder and other issues: don't expect an instant fix.
"Since I went to treatment, there have been days when it's felt really easy, and I've felt great about where I am. But then I have moments when it's not. That's life," she explains. "You can't just take your mind and your body into the shop and get it fixed. It doesn't come out repaired. It's not like a car. It takes time -- pace yourself. Every day is a new opportunity to change your life and be who you want to be."
You can read the entire interview with Demi when the new issue of Seventeen hits newsstands July 1.