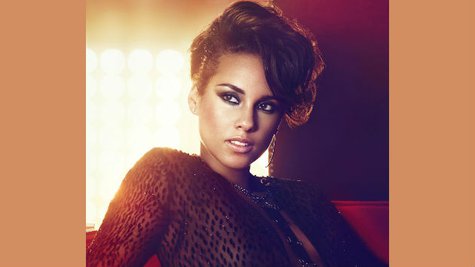 Next month, we'll see Alicia Keys starring in the new ad campaign for Dahlia Divin, the new fragrance by Givenchy. The perfume comes out in September, but the release the singer's really excited about is her new album, tentatively due in early 2015.
Speaking to Women's Wear Daily , Alicia says, "With this album, I find I have much more I want to talk about. This album is more about the concept, the thought I'm trying to get across, where in the past, it's been more about the melody. This time it's more about what we're going through as human beings."
She explains, "I find that the world puts us in these boxes where we're only allowed to be one way...we're so much more complex than that. It's about breaking down those boundaries. The songs concentrate on concepts like that." She adds that she really likes one of her new songs, called "Killing Your Mother," but the title isn't meant to be taken literally. She says, "It's about emotions. I'll leave it at that."
What is certain is that Alicia's new album won't be just a collection of singles: it'll hang together as an artistic whole. "Obviously record companies need to go where the business is, so we started making singles, [not albums]," Alicia says. "Which is cool, but there's something so amazing about an entire body of work, a collective view, that sense that all of this music came from one artist."
As for the fragrance, Alicia, who wrote the music for its upcoming TV ads, says it's "grounded, but still has a femininity that is very earthy, and I love that." She'll appear at the Macy's at New York City's Herald Square on September 2 to promote the launch.
Despite her involvement in the campaign, though, Alicia tells WWD she has some issues with the world of beauty. "I would like to see different representations of what beauty is. I'd like to see women with a little more voluptuousness," she notes. "There's no way in the world that we're all a size 2, and people beat themselves up if they're not small enough or light enough or dark enough or skinny enough. It's tricky to navigate that."
Follow @ABCNewsRadio
Copyright 2014 ABC News Radio
AK x Givenchy. #DahliaDivin . For my modern day goddesses!!! ;-) Shine without inhibition!!! pic.twitter.com/KtU9MHbWuF

— Alicia Keys (@aliciakeys) June 20, 2014