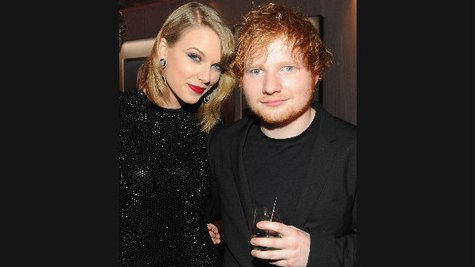 Most people look at Taylor Swift and see a tall, stunning, glamorous young woman. But her pal Ed Sheeran sees Taylor a little differently.
Speaking to Time magazine about the fact that Taylor made him a needlepoint that showed them climbing the ladder of success together, Ed says he didn't make anything for her in return. "I'm not a very crafty sort of person. She's very crafty," he explains. "I know she's 24 but she's a sort of middle-aged woman trapped in a 24-year-old's body. She hangs out with her cat and sews things."
Anyone who's looked at Taylor's Twitter or Instagram feed can confirm that in her spare time, Taylor does seem to spend an awful lot of time hanging out with her cat -- well, cats , now that she's just gotten a new kitten named Olivia -- as well as baking, painting and other homey pursuits.
As for how old he really is inside, the 23-year-old Ed says, "It can be 8 or 80. It just depends on what I'm doing. If I'm working, it's usually pretty spot-on for work, but if I'm with my friends and the clock's off, I'll go back to being young."
Follow @ABCNewsRadio
Copyright 2014 ABC News Radio