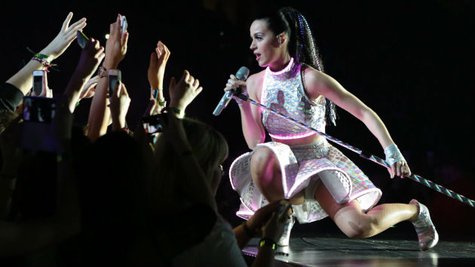 Katy Perry is launching the North American leg of her Prismatic world tour this Sunday in Raleigh, North Carolina. She says this time around, she's touring smarter and not running herself down, but she'll still be denying herself some pleasures in life, specifically ice cream, peanut butter and Champagne.
"I'm wiser about things not to do since I had the experience of the last tour that almost killed me," Katy tells the Los Angeles Times . "There were so many things going on in my own life. I was overdoing it with being on stage and doing 100-people meet-and-greets every night, and zigzagging around the world."
Of course, one of the things that was "going on" in her life at the time was the breakdown of her marriage to Russell Brand . That drama won't be affecting her this time, but still, Katy tells the paper, "I know how to do it better now because of all of the things that I didn't do right then. I still have to stay really focused; I have no room to trip up while on tour."
"When I'm on a little break like I am now, I'm a little more relaxed," she adds. "I'm supposed to be all about this gluten-free, dairy-free life, but I'm all, like, 'Get me ice cream. I want peanut butter and jelly sandwiches -- I don't care!' The day I leave for tour is where you see almost a whole different person come into play. No Champagne. Just teas and waters. It's not like the old days where people truly were rock 'n' roll."
Katy also tells the paper that three albums into her career, she wants to "continue to keep people guessing." "I think that, eventually, I'd like to do an acoustic record," she adds. "I'm not sure if it will be this next one. I'm not really thinking about the next one just yet. I have to be on tour until spring 2015. We're in lockdown."
Follow @ABCNewsRadio
Copyright 2014 ABC News Radio