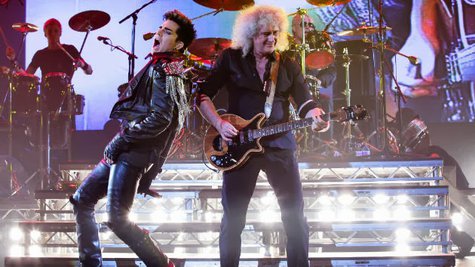 How big a fan of the rock band Queen is Adam Lambert ? So big that he auditioned for American Idol with one of their songs. Now, the singer is living the dream: tonight in Chicago, he kicks off a massive North American tour as the frontman for the legendary British group, whose iconic and flamboyant lead singer , Freddie Mercury , died in 1991.
Adam actually has been performing with Queen on and off for the past couple of years, including several shows in Europe, but this tour marks the first one they've done in North America. While Adam feels more comfortable stepping into Mercury's shoes these days, he admits that the first few times he did it, it was quite nerve-wracking to sing classic songs like "Bohemian Rhapsody" and "We Are the Champions" in front of Queen's rabidly loyal fan base.
"Freddie Mercury is one of the greatest singers of all time," Adam tells ABC News Radio. "He's a personal hero of mine, and he's somebody that I look up to on many different levels. And so taking on his position in a band like this was daunting. And I knew that going into some of these shows in Europe and the U.K., that there would be a lot of hardcore Queen fans there, and I thought, 'Oh, gosh, I hope they like it!'" Luckily, they did, which paved the way for this tour.
According to Rolling Stone, Adam and Queen plan to perform "the big iconic hits," during this tour, as well as some rarities, like a 1984 Freddie Mercury solo track called "Love Kills." Asked to name his favorite Queen song to sing, though, Adam can't choose just one.
"Sometimes I'm like, 'I love this song! This is one of my all-time favorites,'" he says. "There's other songs that for me were a bit more obscure when I first came into the process and that was really good, to kinda challenge myself and sing something I didn't know as well."
"When we do these big emotional power ballads like 'Who Wants to Live Forever,' there's something very special in the air when we do that," he continues. "And then on the other side of the coin, [there are] songs that are rhythmic and really funky...so it kinda depends on what mood you're talking about exploring, 'cause there's so many different angles."
In fact, those many different angles are the reason why, Adam believes, Queen has lasted for so many decades, and been so successful.
"I think one of the greatest thing about the bands is that they've managed to musically reinvent here and there," he tells ABC News Radio. "I mean, in the '70s, there was this kinda glam kinda vibe, and it was very musical, melodic, and as they moved into the late '70s, they went into kind of a funk thing, and then in the '80s, there was this more arena feel. So I think what's amazing is, they've kept their integrity, but they've definitely branched out and kind of explored other things."
The tour is currently scheduled to run through July 28, and there are four shows in Australia in August and early September. Beyond that, things are up in the air. Adam tells Rolling Stone that he'd love to do more shows, adding, "I'm having so much fun."
Follow @ABCNewsRadio
Copyright 2014 ABC News Radio