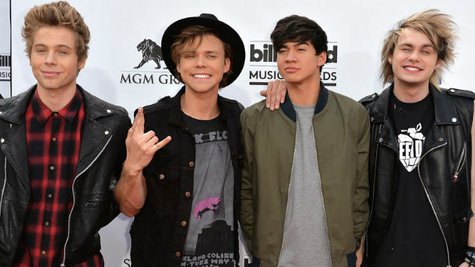 If you've recently felt the urge to buy a new pair of American Apparel underwear, maybe it's because you're listening to too much 5 Seconds of Summer . The Australian band's hit "She Looks So Perfect," which name checks the brand, might actually be responsible for a 10 percent increase in sales of undies this season, Billboard reports.
The line "You look so perfect standing there/In my American Apparel underwear" was inspired by one of the tune's writers, Jake Sinclair , who tells Billboard he came up with the idea while standing on line at an American Apparel store with 14 pairs of briefs, and then thinking about how cool it would be if his girlfriend wore them. American Apparel briefs -- which were donated by the company -- were also featured in the song's video.
A spokeswoman for American Apparel tells Billboard that there had indeed been a 10 percent increase in sales of men's underwear this spring, but wasn't sure if it was directly attributable to the song. However, managers of American Apparel stores across the country tell Billboard they believe the song is affecting sales.
"It's more younger types...who weren't very familiar with our brand before," one manager in South Carolina tells Billboard , describing the new customers she's noticed.
As for the group, they were more concerned about whether "She Looks So Perfect" had the right sound to introduce them to fans in the U.S. "We were waiting a long time to have the right mix of rock for us, because we're ultimately a rock band, performance-wise and everything," drummer Ashton Irwin tells ABC News Radio. "So once we heard it, we loved it...we're really happy that people like the song."
In addition to American Apparel, the Aussie band also likes America in general, and they'll get to see a lot more of it when they open up for One Direction later this summer on the U.S. leg of their tour. "It's where all our inspirations are from, basically," Ashton says of the U.S. "I mean, the music we love and are influenced by are American rock-pop bands [and] punk-rock bands, so it's amazing to be in the place where that music originated from."
The One Direction tour will be 5 Seconds of Summer's best chance yet to show audiences that they're not, as some believe, a boy band, but an actual rock group. "We just want people to understand the type of band we are," notes Ashton. "It's amazing that people are even paying attention to a young band like us."
The group's North American dates with 1D start August 1 in Toronto. Their self-titled debut album arrives July 22.
Follow @ABCNewsRadio
Copyright 2014 ABC News Radio