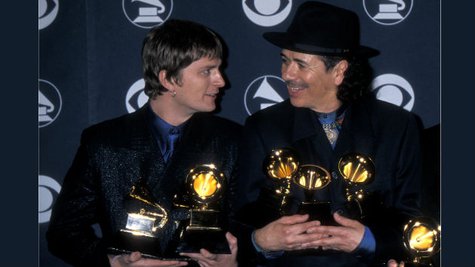 Fifteen years ago this week, pop, rock and Latin music collided in a musical explosion that would dominate the charts -- and the Grammy Awards -- for the next year. June 15, 1999 marks the 15-year-anniversary of the release of the Santana album Supernatural , the album that gave us the monster hit "Smooth," won eight Grammys, and went on to sell more than 30 million copies.
The concept of the album -- pairing rock legend Carlos Santana with a variety of performers from different genres -- came from record executive Clive Davis , who was then the head of Santana's label. Guests included Lauryn Hill , Cee Lo Green , Eric Clapton , Mexican rock band Maná , Dave Matthews , rapper and singer Everlast , Rob Thomas of Matchbox Twenty and R&B duo The Product G&B. It seemed like an odd combination at the time, but Davis and the record label were determined to make it a hit, as Carlos Santana recalls.
"I remember the CD was just coming out, like the first week, and we were on tour with Dave Matthews -- we played the Netherlands," Santana tells ABC News Radio. "And as we were playing a soundcheck, there was an airplane that flew across the sky with a big banner that says 'This is Santana's summer.' And I was like, 'Damn!' And I remember Dave Matthews saying, 'Man, Clive Davis really loves you.'"
Then, on June 29, the single "Smooth," co-written by and featuring Rob Thomas, was released and it was all over. The song topped the Billboard Hot 100 for 12 weeks but also was a crossover smash, earning airplay on rock, pop and Latin radio stations. It was the first #1 hit of Santana's career.
"Smooth" stayed in the top 10 for 30 weeks, and was eventually named the #2 song of Billboard's entire first 50 years. Only Chubby Checker 's "The Twist" out-performed it. After "Smooth" came another single, "Maria Maria," featuring The Product G&B, and that was #1 for 10 weeks.
When the Grammys took place in early 2000, Santana, the album and its various collaborators won a whopping eight Grammys, including Album, Song and Record of the Year. Santana says now, looking back, he never could have imagined the scope of Supernatural 's success.
"We had no idea that it was going to become something outside of this Earth, you know?" he tells ABC News Radio. "'Smooth' is the all-time song, right there with Chubby Checker's 'The Twist'...and [the album's] like, number two or three with Michael Jackson Thriller , and The Eagles' Greatest Hits . So, I had no idea we were going to be put in that kind of an arena."
Supernatural was many a music fans' first introduction to Santana's music, and new generations are now discovering it every year. "We go to a restaurant and children, like, five, six, seven, they look at me and then they...come and ask for an autograph," marvels Santana, who's 66 years old. "It's really something, you know, to relate to grandparents, parents, teenagers, little children, especially children. It's the highest honor when children entrust you with their attention."
The effects of Supernatural continue to be felt. Santana just scored a top 10 album not long ago with a new album Corazon, which was described as " Supernatural with all-Latin musicians." Meanwhile, Rob Thomas went from being the lead singer of Matchbox Twenty to a solo star in his own right, and an in-demand writer who's penned songs for legends like Willie Nelson , Mick Jagger and more. And he's still married to his wife Marisol , the "Spanish Harlem Mona Lisa" who inspired him to write "Smooth."
Follow @ABCNewsRadio
Copyright 2014 ABC News Radio