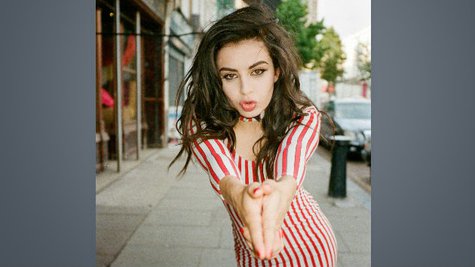 If you want a female anthem, Charli XCX is your go-to girl. After scoring in 2013 with Icona Pop 's "I Love It," which she co-wrote and sang on, Charli's now sitting at #1 with "Fancy," the song she co-wrote with Iggy Azalea .
"Iggy hit me up. She wanted me to come to the studio and hear some of her stuff, write some hooks for her for her record," the British singer tells ABC News Radio about how she and the Australian rapper first connected. "And I heard 'Fancy.' She already had the rap down and I loved it, so I wanted to do something with it. So I did my thing and she liked it and it stuck. And then the next thing I know, we're shooting the video, like, a week later! It was very cool."
Charli sings the chorus of "Fancy," as well as the part about trashing the hotel and getting drunk on the minibar. It's just as catchy as the chorus of "I Love It." So what's her secret to writing big pop hits that you just can't stop singing? "I don't know...I just do it," Charli tells ABC News Radio. "I just don't listen to anyone else, and follow what's in my brain. I dunno; I'm a real artist. I'm not controlled. That's why I write good songs."
So who else would Charli like to write "good songs" for? You might be surprised. "I heard Hilary Duff is making an album and I think she's cool, so that would be sweet," Charli says, adding, "Hit me up, Hilary!"

The idea of Hilary Duff working with a hit-making British artist isn't far-fetched: last month, she was in the studio with Ed Sheeran.
Meanwhile, Charli is now stepping out solo after being a "featured" artist on "Fancy" and "I Love It." "Boom Clap ," her song from the soundtrack of the movie The Fault in Our Stars , just entered the chart at #62. It's her first Hot 100 hit as a lead artist. The album, meanwhile, has hit the top 10.
Follow @ABCNewsRadio Copyright 2014 ABC News Radio