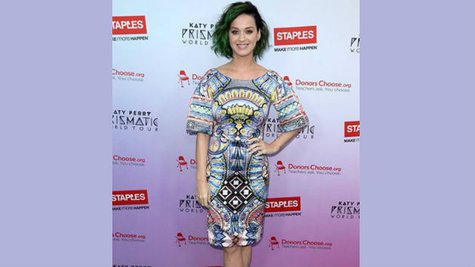 Katy Perry wants to help teachers and classrooms around the country. That's why she's teamed up with Staples and DonorsChoose.org for "Make Roar Happen," a new partnership that helps educators get the materials they need for their classrooms.
On Monday's Good Morning America , Katy explained that her new initiative helps teachers "get supplies for their classrooms, whether it's books or pencils or paper or just, like, basic things."
Katy said she signed onto this initiative because she believes in the value of education . "I like to stand for things that are powerful and strengthening, and a lot of my songs are anthemic," she added. "I think education is power."
Reflecting on her own education, Katy said one teacher in particular affected her life.
"There was actually a music teacher that taught me Italian opera at one time. I didn't always have enough money to pay for my lessons and she always was kind of like, 'It's OK. It's OK. I believe in you,'" she explained.
Staples will donate $1 million to DonorsChoose.org in an effort to benefit teachers and their classrooms. The big-box store also is asking its customers to donate $1 at their local stores or online at www.staples.com/makeroarhappen to help benefit schools in their neighborhoods.
Staples is sponsoring Katy's Prismatic World Tour, the U.S. leg of which kicks off June 22 in Raleigh, North Carolina.
Follow @ABCNewsRadio
Copyright 2014 ABC News Radio