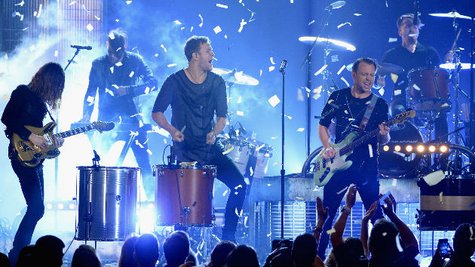 Imagine Dragons and Lorde are among the performers on this Sunday night's MuchMusic Video Music Awards, the Canadian equivalent of the MTV VMAs. The show, which will also feature performances by Ariana Grande , Ed Sheeran and MAGIC! , is taking place in Toronto, but you'll be able to watch the show live online.
Starting at 8 p.m ET Sunday night, go to MMVA.MuchMusic.com to stream the show's Red Carpet Special. At 9 p.m. ET, you'll be able to live stream the actual awards show at that same site. Backstage and close-up camera views will also be available if you'd rather watch that way. This will mark the first time ever that fans worldwide -- and not just in Canada -- can live stream the show.
As for who'll be competing, Drake is the leading nominee, with six nods, including in the category of Video of the Year for the clip "Worst Behavior." He's tied with the Canadian band Hedley for the most nominations this year.
Artists receiving two nominations each include Avril Lavigne , Justin Bieber , Katy Perry , Miley Cyrus , Selena Gomez , Lorde and Imagine Dragons . 5 Seconds of Summer and One Direction have received a single MMVA nomination each, as have Macklemore & Ryan Lewis , Beyonce , Iggy Azalea , Kanye West , Avicii and Aloe Blacc , Maroon 5 , Pharrell Williams , Taylor Swift and Ed Sheeran and Mumford & Sons .
This year marks the 25th anniversary of the MuchMusic Video Awards.
Follow @ABCNewsRadio
Copyright 2014 ABC News Radio