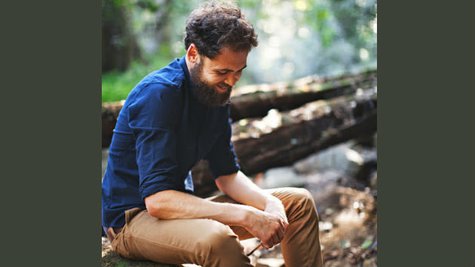 Passenger , the British singer/songwriter who brought you the global hit "Let Her Go," is back with a brand new album called Whispers and a new single called "Scare Away the Dark." "Let Her Go" was a pretty heartbroken and serious song, but Passenger himself -- who was born Mike Rosenberg -- is actually a pretty funny guy, as you can see from the new song's newly debuted video .
In the clip for the song, which is about getting in touch with your emotions and unchaining yourself from technology, we see a drab office where everyone looks miserable. Then, we see Mike moving down the office corridor: he's playing guitar and singing while standing on a wheeled office chair that's being pushed by a guy. An older woman is walking in front of them and holding up a microphone and a boombox, which appears to be serving as a portable amplification system.
As Mike is wheeled to the middle of the office, nature begins encroaching on the room. A vine starts growing out of a filing cabinet, dried leaves blow out of a safe, a frog crawls out of a printer, a hedgehog strolls across a desk, and a plant grows out of a pencil holder. When a woman tries to buy a soda from a vending machine, she gets a pine cone instead.
Next, we see Mike seated on a chair and singing in a corner of the office, surrounded by dead leaves; there are a couple of rabbits hopping around as well. When he sings the line, "We're all slowly dying in front of computers," all the workers go berserk, getting up and start throwing their computers, dancing, screaming and chucking papers around, while plant life slowly takes over the office.
Then, the workers find that if they crawl through the ceiling or walk into cabinets, they can emerge outdoors, in a beautiful forest. We see Mike strolling through the forest while the workers run past him like maniacs, ripping off their clothing as they go, and gathering around a large tree, which they all embrace. As Mike continues the song, more and more workers, now in their underwear, frolic around him, and then run into a large sunlit meadow, where they collapse in bliss.
"We had so much fun making [the video]," Mike says in a statement. "Massive thank you to everybody involved -- especially the actors that ran around like naked lunatics in a field in the middle of nowhere on a Monday morning … LEGENDS!!"
The "Scare Away the Dark" video will have its broadcast debut June 14 on the VH1 Top 10 Countdown.
Follow @ABCNewsRadio
Copyright 2014 ABC News Radio