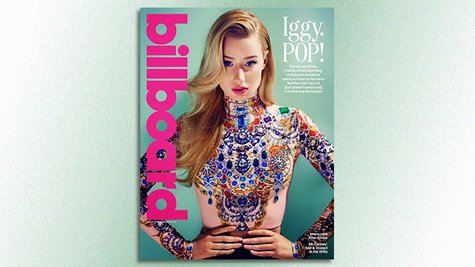 In her cover story for Billboard magazine, Iggy Azalea raised eyebrows with some seemingly critical comments she made about Lorde : specifically, about Lorde's performance at the Rock and Roll Hall of Fame ceremony with the surviving members of Nirvana . Now, the Australian rapper has taken to Twitter to further explain her meaning.
Talking about Lorde's performance, Iggy told Billboard , "Nothing against her, but I think when you're doing a tribute to someone that's dead, generally it should be the person's peer. Lorde is not Kurt Cobain 's peer, no matter if she killed the performance or not, I just don't think it's appropriate."
Now, Iggy is clarifying her comments, explaining that she wasn't criticizing Lorde. In fact, the two teamed up recently to vent on Twitter about magazines who beg to interview musicians, and then subsequently give their albums bad reviews. Iggy referred to this in her clarification.
"I consider lorde my very talented friend. I find it ironic 2 girls tell the media they're full of sh** & weeks later supposedly I dislike her," Iggy tweeted.
"My opinion on the makings of a touching musical tribute wasn't meant as some back door way to take a dig at her or the performance she gave," Iggy went on . " Sorry if it came across that way, it's not what I intended & I feel genuinely bad about it because I still think lorde is an awesome chick."
"I just don't want to world thinking I don't support the girls, because I do!" she added . "Anyway I'm off to paint my kitchen! Lots of love."
In other Iggy news, Stacey Dash , the co-star of the '90s classic Clueless, approves of Iggy's video for "Fancy," which is basically a remake of that movie. "Yes @twitter , I think @IGGYAZALEA 's #Fancy video is brilliant! #Clueless ," Stacey tweeted, and copied her co-stars Alicia Silverstone , Elisa Donovan and Donald Faison on her comment.
Follow @ABCNewsRadio Copyright 2014 ABC News Radio