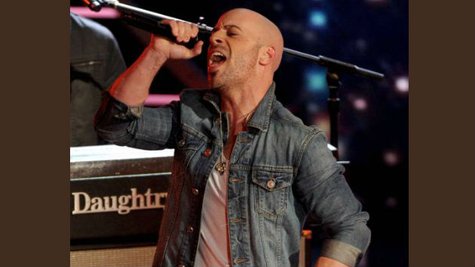 After doing a great job mentoring the contestants on American Idol season 13 this year, Chris Daughtry has now signed on to fulfill the same role in yet another musical competition show, which starts tonight.
The show, a joint venture between VH1 and Republic Records, is called Make a Band Famous , and it'll take place during a 24-hour live stream on MakeaBandFamous.VH1.com and on the VH1 app. The show is hosted by Tyson Ritter of All American Rejects ; Natasha Bedingfield is one of the judges; and Chris, Gym Class Heroes frontman Travie McCoy and singer/songwriter Bonnie McKee , who co-wrote most of Katy Perry 's biggest hits, will be the mentors.
Other stars who'll be appearing as guests during the 24-hour event include Ed Sheeran , Colbie Caillat , Benji and Joel Madden and Pete Wentz and Patrick Stump of Fall Out Boy .
So what's going to happen in 24 hours? Well, back on May 1, VH1 and Republic Records asked unsigned bands to upload 15-second clips of their original songs to Instagram. Fans then voted for their favorites, and the field was narrowed down to 24 bands. Those are the acts you'll see competing during the live stream.
In addition to the performances, you'll see backstage stuff, interviews, the judges' comments and more, thanks to multiple cameras. The winner will receive a record contract and be featured in VH1's You Oughta Know program, which promotes rising acts.
The event gets underway at 8 p.m. ET on June 11.
Follow @ABCNewsRadio
Copyright 2014 ABC News Radio