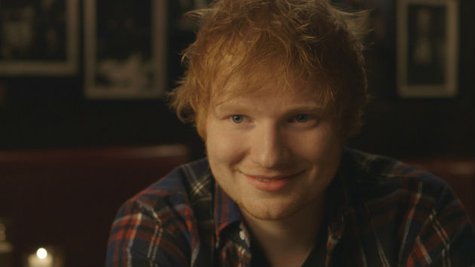 In advance of tonight's MTV premiere of the documentary 9 Days and Nights of Ed Sheeran, the network is offering a sneak peek of the show by revealing the special handmade gift Ed's good pal, Taylor Swift , made for him.
Most Taylor fans know she enjoys doing things like baking, but it turns out she's a wiz at other old-fashioned home skills as well. She's created a needlepoint for Ed which shows her and him together, ascending a staircase, which represents fame. Ed's holding a guitar, and in a speech bubble, he's saying the word "Lego," after his song "Lego House," while Taylor's saying the word "Cats."
Along the staircase are written the words "The struggle is real" -- which is taken from a popular Internet meme -- and the caption on the bottom reads, "Started from the bottom/Now we here," a quote from Drake's hit song, "Started from the Bottom."
Tuesday morning, Taylor tweeted a link to the MTV story in which she expressed surprise that other pop stars don't spend their time creating needlepoint pieces for their friends. "But I thought everyone does this?" she wrote . To which Ed replied , "Nah, just you."
9 Days and Nights of Ed Sheeran airs tonight at 11 p.m. ET on MTV.
Follow @ABCNewsRadio Copyright 2014 ABC News Radio