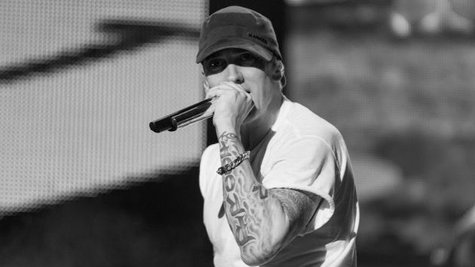 In his career, Eminem has made his share of recording history, and now he's just set another record: he's the first artist ever to have two singles that have each sold more than 10 million copies. That's according to the Recording Industry Association of America, which has awarded the rapper two Digital Single Diamond Awards.
On Tuesday, Em's hit "Not Afraid" reached Diamond status, which represents 10 million in song sales and streams. The track joins his eleven-times-platinum smash "Love the Way You Lie," featuring Rihanna .
"We are delighted to recognize Eminem as the first artist to earn two RIAA Digital Diamond Awards," said Cary Sherman , the RIAA's chairman and CEO. "This singular achievement -- earning a Diamond Award on two separate digital songs -- is unparalleled, and we congratulate him on forever etching a mark in Gold & Platinum Program history."
The rapper has also had two of his albums certified Diamond for ten million copies or more sold: The Marshall Mathers LP and 2002's The Eminem Show .
To date, Eminem has sold more than 37 million albums and 31 million singles in the United States, according to the RIAA.
The rapper kicks off his Monster Tour with Rhianna in Los Angeles on August 7.
Follow @ABCNewsRadio
Copyright 2014 ABC News Radio