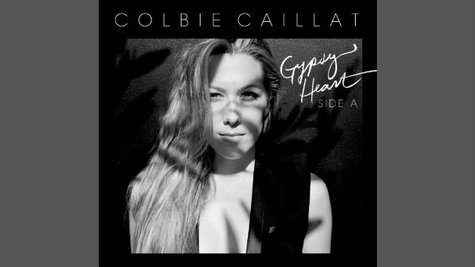 Colbie Caillat surprised fans Monday with the release of a new EP, called Gypsy Heart Side A. The title refers to the fact that the five songs on the release make up the first half of her forthcoming album, Gypsy Heart, due out later this year.
The lead single from the EP, "Try," is available now as a free download on iTunes, and it was co-written by Babyface. A clip of the song's lyric video will debut Tuesday on NBC's Today show, in the 10 a.m. hour, and then the full version will hit ColbieCaillat.com at 10:30 a.m. ET.
The lyric video is a star-studded affair, featuring stars such as Sheryl Crow , Sara Bareilles , Natasha Bedingfield , Miranda Lambert , Katherine McPhee , Christina Perri , Hayden Panettiere , Kelly Osbourne and more all appearing without makeup. Colbie put out a call for makeup-free selfies a few weeks back, to go along with the song's message of confidence for women everywhere.
"It's exhausting being a woman," Colbie tells Billboard. "This song is not to say that we should never wear makeup, but to say that, sometimes, it's okay not to." The song was partly inspired by Colbie's frustration with her record company, who, she claims, told her to "be more like those pop artists out there that dress sexy and use Auto-Tune on their voices." She adds, "To be compared to someone so different, it hurt."
Explaining why she decided to release an EP, Colbie tells Billboard, "Right now, I think everyone's attention spans are very short. I think 12 songs is too much to listen to all at once...people can listen to the first five songs, fall in love with them, get to know them, and then a few months later, have the rest of the record available for download."
Follow @ABCNewsRadio
Copyright 2014 ABC News Radio