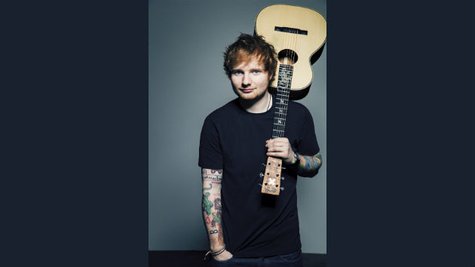 Ed Sheeran 's video for "Sing" is pretty entertaining, since it features a hard-partying puppet version of himself, as well as a guest appearance by Pharrell Williams . But according to Ed, the clip was originally supposed to star someone even more compelling: red-hot British actor Benedict Cumberbatch , star of Sherlock and Star Trek: Into Darkness .
Ed tells the British paper The Telegraph that he thought that the Cumberbatch appearance was a sure thing, but it was not to be. "He was locked on for it, I had dinner with him twice," the singer explains. "His U.K. agent said yes. Met up with him at the Oscars, [and] he was well up for it. But his U.S. agent just pulled him out last minute."
What was the initial connection between the two acts? Well, Ed contributed the song "I See Fire" to the movie The Lord of the Rings: The Desolation of Smaug ; Cumberbatch provided the voice for the dragon Smaug in that film.
Elsewhere in the interview, Ed reveals that he didn't plan to release "Sing" as the first single from his upcoming album x (multiply), but he was convinced to do so by two people whose opinions really matter to him: Elton John and Taylor Swift .
"Elton said, 'You're mental if you don't put that on the album. That's your first single.' So he originally planted the seed in my head," Ed tells the paper. As for Taylor, Ed recalls that she talked him out of releasing another song called "One" first by telling him, "That's gonna, not bore people, but just satisfy them. But you want people to talk. And if they listen to 'Sing' they can love or it hate, but they are gonna talk about it."
"Taylor and Elton are two of the people I would play music to and really listen to their advice. Taylor has not put a wrong foot, ever," Ed explains.
Follow @ABCNewsRadio
Copyright 2014 ABC News Radio