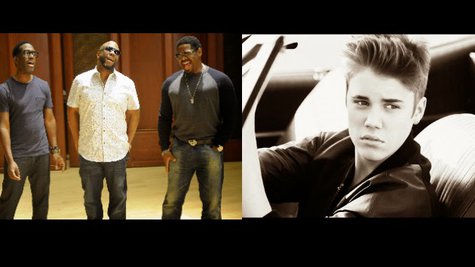 Justin Bieber has already issued a lengthy apology for a video that emerged showing him, at age 15, telling a racist joke whose punch line incorporated the "n-word." But according to the guys in Boyz II Men , who are friends of the Bieb, the now-20-year-old singer shouldn't feel as though he has to say he's sorry.
"Apologize for the other stuff you might have done, but don't apologize for a damn joke," Boyz II Men member Shawn Stockman tells ABC News Radio. His bandmate Wanya [wahn YAY] Morris agrees, saying that Justin is far from racist.
"If it's any testament to how he really feels, he hangs out with all black people," laughs Wanya. "Like, c'mon now, like, he's a talented artist, a human being. He hears things just like everybody else does. I mean, we've told jokes that someone else has. He didn't write the joke, he just said it."
Boyz II Men and Justin became friendly when they collaborated on a song on Justin's #1 2011 Christmas album Under the Mistletoe. Asked if they ever witnessed him doing or saying anything that could be considered racist during that time, Wanya says, "Nah, nah, nah, man. Justin's a really nice guy who actually is growing up in the public eye and unfortunately he has to be careful. But, who cares? He doesn't care."
Then, referring to Justin's other legal problems, Wanya cracks, "You know, to me he's made money. All he gotta care about is staying in the country."
Meanwhile Boyz II Men member Nate Morris says that overall, criticizing someone for telling a racist joke isn't an unforgivable offense.
"The key to it all is at the end you say the word 'joke,'" he explains. "Now, if it's not a joke, then it's a whole different thing...if [Donald ] Sterling did it, it would be a different story. But I think that jokes are meant to be funny, whether they're racist or whether they're about anything -- that's why it's called a joke. We all are humorous people. You want to tell jokes that are funny."
Boyz II Men, who appeared on ABC's The Bachelorette on Sunday night, have a new album out later this year. They are also in negotiations to extend their residency at the Mirage in Las Vegas.
In his apology, Justin said, in part, "As a young man, I didn't understand the power of certain words and how they can hurt. I thought it was ok to repeat hurtful words and jokes, but didn't realize at the time that it wasn't funny and that in fact my actions were continuing the ignorance....I apologize for offending or hurting anyone with my childish and inexcusable mistake. I was a kid then and I am a man now who knows my responsibility to the world and to not make that mistake again."
Follow @ABCNewsRadio Copyright 2014 ABC News Radio