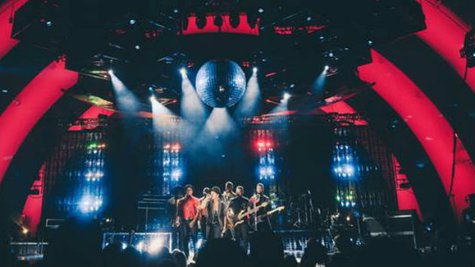 Describing an event as "star-studded" is pretty common, but Bruno Mars ' two concerts this past weekend at the Hollywood Bowl were the very definition of the phrase. In fact, there were so many celebrities in the audience that it's hard to believe that any regular fans actually took in the show.
Here's just a partial list of those stars who attended Bruno's Moonshine Jungle tour on Saturday and Sunday: Matt Damon , Tom Hanks , Aaron Paul , Jared Leto , Will Ferrell , Zac Efron , Gwen Stefani , Jessica Alba , Sharon Stone , Ryan Philippe , Lea Michele , Chris Martin of Coldplay , Paula Abdul , Anna Paquin , Tim Allen , Minka Kelly , Kayley Cuoco , Quentin Tarantino , Howie Mandel , Brad Garrett and legendary producer Quincy Jones . In fact, Bruno dedicated a cover of a Michael Jackson song, "Rock with You," to Jones, since he produced it.
Bruno's tour, featuring Pharrell Williams and Aloe Blacc , continues through the summer, wrapping up in Colorado in August.
Follow @ABCNewsRadio
Copyright 2014 ABC News Radio