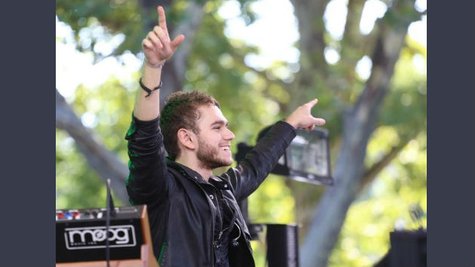 Lollapalooza gets under way Friday in Chicago's Grant Park, and the eclectic three-day lineup includes everyone from Lorde and Iggy Azalea , to Eminem, Foster the People and Calvin Harris , to Outkast, Kings of Leon and Zedd . While there are other festivals that are entirely devoted to one genre or another, Zedd says he much prefers to play an event like Lollapalooza, because it gives him the chance to turn people on to his genre, EDM.
"I personally prefer a variety of music at festivals," he tells ABC News Radio. "I think it's opening minds...people that are not, probably, the biggest EDM fans maybe see a show, and then they suddenly like it."
Zedd, who's performing Friday night, recalls a recent experience at a similar festival where he observed this particular scenario in action.
"The crowd before I went on was 40-plus and then...the young kids came in, but the older people stayed and watched it," he says. "And then you could tell -- with every single minute -- there were like 100 more hands up, and then at the end, you see all these...10 to 50 years old, 60 years old people, all raging together, and I think that's great!"
He adds, "I think that festivals that have all sorts of genres kind of combine [audiences together] a little more than just strictly electronic dance music festivals."
Whatever kind of festival he plays, though, the man who brought us "Clarity," "Stay the Night" and Ariana Grande 's new hit "Break Free" says that he works hard to make his live performances truly entertaining, which is sometimes more challenging than expected.
"I worked really closely with my visuals and lasers and lighting team, and special effects, so we make it a real show rather than a deejay set, with someone pushing buttons on top of that to make lights happen," he says. "So I try to plan as much as humanly possible, but when you arrive at a festival, a lot of the times half of the songs you planned on playing were played before so you gotta be flexible and swap out things."

After he plays Lollapalooza, Zedd will travel to Toronto, Switzerland and Japan for more festivals before heading back to U.S. for New York City's Electric Zoo festival on August 30.
Follow @ABCNewsRadio Copyright 2014 ABC News Radio