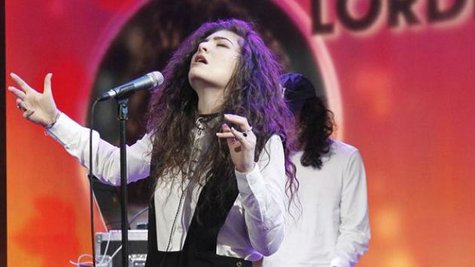 Lorde will leave her mark on the next Hunger Games movie. She's been tapped to curate the soundtrack for The Hunger Games: Mockingjay -- Part 1 , the third film in the popular series. The Grammy-winning New Zealand teen will select the artists who will be involved in the project, and also contribute its first single.
In a statement, Lorde says that while curating the soundtrack for such an anticipated film will present a challenge, she "jumped at the chance." She continues, "The cast and story are an inspiration for all musicians participating and, as someone with cinematic leanings, being privy to a different creative process has been a unique experience. I think the soundtrack is definitely going to surprise people."
Mockingjay -- Part 1 director Francis Lawrence adds, "I sat down with Lorde on the set of Mockingjay this spring and I was immediately struck by how she so innately understood what we, as both fans and filmmakers, were trying to accomplish with the film."
The soundtrack for The Hunger Games: Mockingjay -- Part 1 will be released sometime this fall. The movie, starring Jennifer Lawrence , Josh Hutcherson , Liam Hemsworth , Woody Harrelson , Julianne Moore and the late Philip Seymour Hoffman , opens November 21.
Follow @ABCNewsRadio Copyright 2014 ABC News Radio