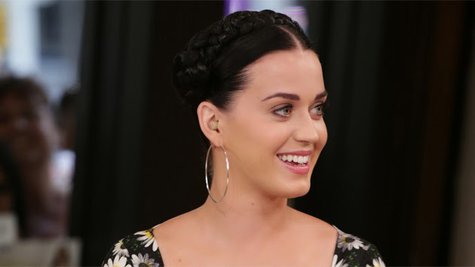 Katy Perry says she has a strong appreciation for other cultures, and that's what she tries to convey in her performances. Despite the criticism that has come from that, she tells Rolling Stone that she's "very sensitive to people."
Last fall, Katy was accused of being racist after dressing like a geisha for her rendition of "Unconditionally" at the American Music Awards. She's also drawn attention for having dancing "mummies" with padded rear ends on stage during her Prism tour.
In her interview with Rolling Stone , Katy says the involvement of mummies is inspired by "plastic surgery." She continues, "Look at someone like Kim Kardashian or Ice-T 's wife, Coco . Those girls aren't African-American. But it's actually a representation of our culture wanting to be plastic, and that's why there's bandages and it's mummies."
She adds, "If there was any inkling of anything bad, then it wouldn't be there, because I'm very sensitive to people."
Katy sarcastically says, "I guess I'll just stick to baseball and hot dogs, and that's it. I know that's a quote that's gonna come to f*** me in the a**, but can't you appreciate a culture? I guess, like, everybody has to stay in their lane? I don't know."
While Katy is grateful she has so many fans who continue to show her their support, she says she's not "thirty or desperate" for anyone's approval. She says, "Some people are so dramatic about it, and you're like, 'Honestly, you're not the Second Coming. You're just an entertainer!'"
Elsewhere in the interview, Katy mentions that she hopes to have a child, though not in the immediate future. She reveals, "I want to be doing that in the right time. And that's not in the next two years, you know? Maybe it's in a five-year plan, but I need to really be able to focus 100 percent of my attention on it. I don't really want to take the child on tour. Not until, like, birth through five is over."
Katy notes that she doesn't necessarily need a man in her life to become a mother: "I'm not anti-men. I love men. But there is an option if someone doesn't present himself."
Rolling Stone 's cover story on Katy is featured in the issue hitting newsstands on Friday. For those of you keeping score at home, this is the third time that Katy has appeared on the cover of the magazine.
Follow @ABCNewsRadio Copyright 2014 ABC News Radio