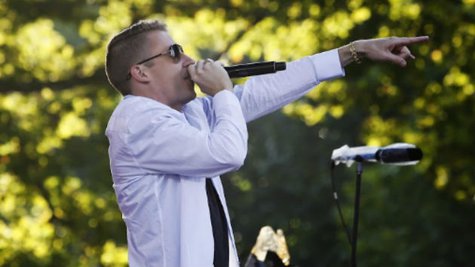 Macklemore and Ryan Lewis have collaborated with an indie-rock band from their native Seattle on a new song that just made its debut.
The Grammy-winning duo appears on "Arrows," by a band called Fences . This is the first new tune to feature Macklemore and Ryan Lewis since the release of their breakout 2012 album, The Heist .
Macklemore says he can relate to Fences leader Christopher Mansfield . He says in a statement, "Fences is a good friend. He's f***ed up in the same way that I'm f***ed up. Because of that, our lives relate beyond music. I've always admired his talent for illustrating with words and evoking imagery. We've made a bunch of stuff together over the years and this here song about Arrows is my favorite one we've done."
Fences will join Macklemore and Ryan Lewis at the Outside Lands Music & Arts Festival in San Francisco August 9, as well as at various European music festivals.
"Arrows" is included on Fences' new album, Lesser Oceans , out October 14. If you pre-order the album on iTunes, you'll get an instant download of "Arrows" and one other song.
Follow @ABCNewsRadio Copyright 2014 ABC News Radio