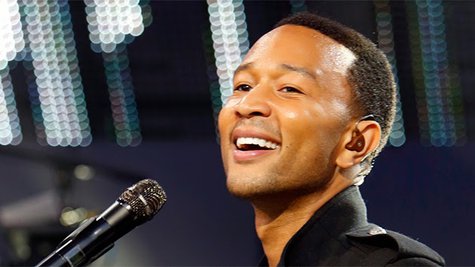 John Legend 's been out on his All of Me tour for quite some time, but he's still got plenty of dates to go: he wraps things up in the U.S. at the end of August; then, he'll head to Singapore, followed by dates in the U.K. and in Europe. While John's career's now at an all-time high, thanks to the success of "All of Me," the tour, billed as "An Evening with John Legend," is the opposite of a big production.
"This is the first time I've done, really kind of like a Storyteller vibe for the whole show," he tells ABC News Radio. "We stripped down the band to a very core, small group. I have a string quartet and a guitarist. I tell more stories to the fans, and it's just a more intimate situation. And it's been beautiful."
"I've been so happy with it and the fans have been really eating it up," he adds.
Even if you haven't seen John live in concert, you've probably caught him singing on one of the many awards shows he's performed on over the past year or so. According to the singer, being able to play your song on a big awards telecast is a huge deal for an artist's career: so much so that he prefers it to actually winning an award.
"Performing is more impactful, because people don't really remember who won, but they remember performances if they stand out," he notes. "Like, I didn't win any Grammys, but when I performed 'All of Me' at the Grammys this past year, the song went from 49 on the iTunes charts to number three. And so that performance was so important for the song and for my career....If you nail it, you can really help the song a lot."
John's received a nomination for Best Male on the upcoming MTV Video Music Awards, but it's unlikely that he'll be performing on that particular award show, since he has a concert booked in Las Vegas that same night.
Follow @ABCNewsRadio Copyright 2014 ABC News Radio