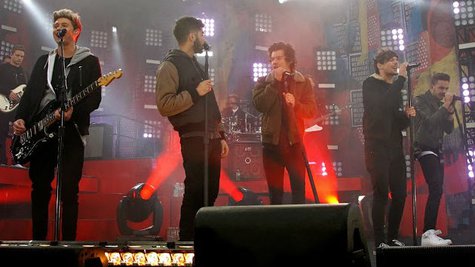 One Direction just celebrated their fourth anniversary as a group, but how well do you really know Harry , Liam , Louis , Zayn and Niall ? Well, get ready to become a lot more familiar with the lads, because they've just announced their official autobiography.
Called Who We Are , the book will arrive in stores September 25, and in an Instagram video announcing the project, the band promises it'll give you the real scoop. "You've been with them through every step of this story," says the video. "This is how it feels to be inside the world of One Direction. This is Who We Are. "
The Amazon description of the book says it's 1D's "first in-depth autobiography," offering "new, intimate insight into their lives." Among the burning questions answered: What did they really think of each other when they first met? What inspires their songwriting? How do they handle life on the road and long breaks away from those they care about and love? And what do they think is next?
The book is also filled with never-before-seen photos, drawings and notes, through which they'll "lay themselves bare in a way we've never seen before." No, unfortunately, that doesn't mean that Harry Styles is getting naked in the pages.
The North American leg of One Direction's Where We Are tour gets underway next month.
Follow @ABCNewsRadio
Copyright 2014 ABC News Radio