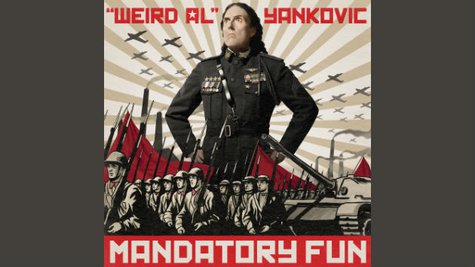 It just goes to show: comedy is not dead. The King of Pop Music Parody, "Weird Al" Yankovic , has just scored the first #1 album of his career.
Thanks to a clever viral video campaign that saw him release one video per day for eight days straight, Weird Al -- whose first album hit the charts more than 30 years ago -- sees his new album, Mandatory Fun , debut at #1 . It's also the first comedy disc to hit #1 on the Billboard album ranking since 1963, when comedian Allan Sherman spent eight weeks on top with his album My Son, the Nut.
"If you'd told me 30 years ago this would happen, I never would've believed it. If you'd told me 2 WEEKS ago, I never would've believed it," Weird Al tweeted . "I'm so pleased everybody is enjoying the album, and I'm enormously grateful for everyone's support. Thank you, thank you, THANK YOU."
Mandatory Fun is Weird Al's third top-10 album, following 2011's Alpocalypse and 2006's Straight Outta Lynwood . It features parodies of mega-hits like "Royals," "Happy," "Blurred Lines" and "Fancy," as well as original tunes and, of course, one of Al's patented polka medleys. The comedy star tells Billboard that since this is the final album of his current contract, he will likely abandon the album format entirely, and only release digital singles from now on.
Elsewhere on the chart, Jason Mraz sees his latest disc, YES!, debut at #2. It's his fourth top-10 album and his second to hit #1, following 2012's Love Is a Four Letter Word. He's yet to score a #1 album.
Follow @ABCNewsRadio
Copyright 2014 ABC News Radio