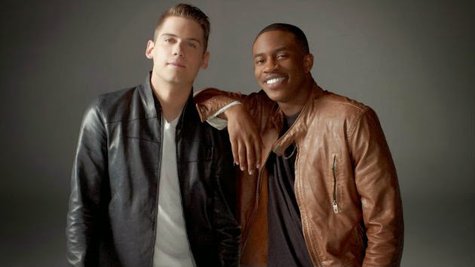 When actor Malcolm Kelley was starring in the groundbreaking ABC series Lost , a lot of the action took place in Australia. Maybe that's why the song "Classic," by his group MKTO , was a huge hit there before it ever got big in the U.S. Now, however, the home country of both Malcolm and his musical partner in crime, Tony Oller, has finally caught up, and "Classic's" an American smash too -- fitting for a group whose current outing is called the American Dream tour.
"You know, Australia kind of had the jump on things...we're kind of four singles deep over there," Malcolm tells ABC News Radio. "So it's just amazing how you can make music and watch it grow on the other side of the world...and now we finally went platinum over here in our homeland."
"That's all we can ever ask for man, it's amazing now just watching a song grow," adds Malcolm, who played Walt on Lost . "When we perform it on our tour now, everybody is just singing along. It's a good feeling."
Malcolm and Tony first met when they were starring on the Teen Nick series Gigantic. They became best friends and decided to start a group. Soon, they landed a record deal, and their self-titled debut album hit #1 in Australia in February; it was released here in April.
"Classic" has caught on in the U.S. thanks to its retro feel, and because it cleverly name-checks musical superstars like Michael Jackson, Prince, Beyonce and the late soul legends Marvin Gaye and Donny Hathaway , while tossing in references to iconic movie stars like Frank Sinatra , Marilyn Monroe and Audrey Hepburn .
"Our producers we worked with, you know, they're heavy-hitters in the game and have been around for a long time, so [they] definitely help us get those old-school references in there, just to make the song pop and make it just stand out a little bit more," explains Malcolm.
But does he think that "Classic" may actually be educating young people about legendary stars they may not have heard of?
"Yeah, I think so," he tells ABC News Radio. "You know, definitely using some of the references that their parents might understand, I think it's just cool how their parents can just enlighten them...And some things their parents don't know about, the kids can share with them. So I just think it's a cool bonding thing."
Earlier this year, MKTO toured with Emblem 3. Their American Dream headlining tour wraps in August, and in September, they'll be hitting the road opening for Demi Lovato ; Christina Perri' s also on the bill.
Follow @ABCNewsRadio
Copyright 2014 ABC News Radio