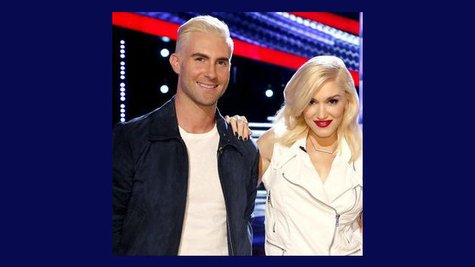 Adam Levine won't just be working with Gwen Stefani on the new season of The Voice: he's also collaborated with her musically, recording a duet with her for Maroon 5 's upcoming album V. And Adam's band mate thinks that the singer is positively starstruck by the No Doubt frontwoman.
Billboard reports that the song Gwen joins the band on is called "My Heart Is Open," and that it was co-written by singer/songwriter Sia , whose album 1000 Forms of Fear just debuted at #1 on the magazine's album chart. Coincidentally, or perhaps not, Sia was a mentor for Christina Aguilera 's team back on The Voice season one.
Talking about working with Gwen, Maroon 5 guitarist James Valentine tells Billboard, "It's cool for all of us to have her on the record. And Adam won't shut up about how cool she is as a person. A lot of times when you meet your idols it's a letdown, but it's the opposite case with Gwen, apparently."
One reason Adam is so jazzed about Gwen's presence on the album, James says, is because No Doubt was an influence on Kara's Flowers , the original incarnation of Maroon 5. Kara's Flowers changed their name to Maroon 5 in 2001, after James joined the band.
Maroon 5's album V -- which James says is pronounced "Five," because V is the Roman numeral for five, and it's their fifth album -- will be in stores September 2.
Follow @ABCNewsRadio
Copyright 2014 ABC News Radio