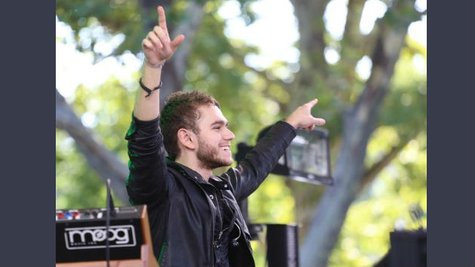 So far this summer, ABC's Good Morning America Summer Concert series has welcomed big names like Jennifer Lopez , Demi Lovato , Keith Urban and Jason Derulo to New York's Central Park for live free concerts each Friday. But the guy who just set the record for the most-attended show on GMA so far this season is an unassuming 24-year-old dude named Anton Zaslavski . You, of course, know him as super-producer and deejay Zedd .
Over 4,300 fans woke up at the crack of dawn Friday morning to watch Zedd perform hits like "Clarity" and "Stay the Night" on GMA , complete with video effects and smoke cannons. Afterward, the deejay, who never performs at 8 o'clock the morning, told ABC News Radio he was "really honored" to hear that he set the season attendance record so far, adding, "I want to say a huge thank-you to my fans for coming out this early. I saw plenty [of] tweets of people waking up early; people were here at 7pm yesterday to be the first in the line!"
"I really appreciate it," Zedd added. "I read all those tweets and I'm infinitely happy, and just wanna say thank you for everyone who came out this early and made it an experience I've never had before. Y'know, I've never played at this hour in my life!"
Zedd was also happy to see that the crowd, who sang along to every song, threw their hands in the air and generally went nuts, included little kids: not a common sight at Zedd's regular shows, which tend to take place at huge clubs at 3am.
"I love that, I mean, I don't get to play all-ages show that often, so when I do, it's really special," he tells ABC News Radio. "And I absolutely love young kids jumping and being happy and smiling...there's not a whole lot better things than seeing everyone sing along and smile when you play your own music. That's pretty much the best thing there is!"
Also making Zedd "infinitely happy" are his two MTV VMA nominations for "Stay the Night," his collabo with Hayley Williams . His latest collabo -- with Ariana Grande on "Break Free" -- just received a Teen Choice Award nomination.
Follow @ABCNewsRadio
Copyright 2014 ABC News Radio