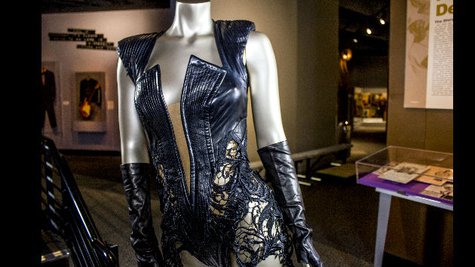 Beyonce 's stylish ensembles will be showcased in a new fashion exhibit at the Rock and Roll Hall of Fame and Museum.
The leather body suit that the singer wore during her 2013 Super Bowl performance, among other items, will be on display at the exhibit, opening Tuesday, July 22 inside the Ahmet Ertegun Main Exhibit Hall in the institution's Legends of Rock section.
The singer's stylist, Ty Hunter , remembers that she wanted her Super Bowl look to be "funky, edgy, and feminine." He adds, "A lot of different designers came to Beyoncé with sketches, but in the end Russian designer Rubin Singer created something magical."
The diva's signature black leotard from her "Single Ladies" music video also will be on display. Hunter says for the video the singer wanted a "minimal look," which was designed by her mother Tina Knowles .
In addition, Beyonce's Givenchy gown from the 2012 Met Gala and her white tank top, denim shorts and leather pumps from her 2003 "Crazy in Love" music video will be on display, among other outfits.
This marks the first time that an non-inductee is being featured in the Legends of Rock exhibit -- Beyonce won't be eligible for induction into the Rock Hall as a member of Destiny's Child until 2022 and then will have to wait five more years to go in as a solo artist.
For further information, visit RockHall.com .
Follow @ABCNewsRadio Copyright 2014 ABC News Radio