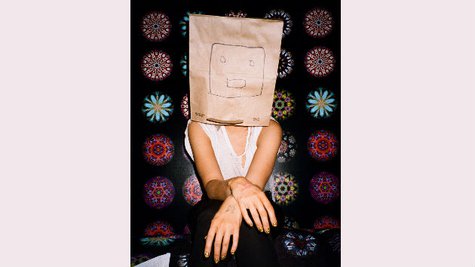 An artist who promoted her album without ever showing her face publicly has managed to debut at #1 on the Billboard chart.
Sia , the Australian artist best known for writing Rihanna's #1 hit "Diamonds," and for co-writing and singing on both David Guetta's "Titanium" and Flo Rida's "Wild Ones," has scored her first #1 album on the Billboard Top 200 chart with her latest disc, 1000 Forms of Fear.
While Sia technically "made the rounds" promoting the disc and its single, "Chandelier," she did it in a unique way. She appeared on the cover of Billboard magazine -- with a bag over her head -- next to the headline, ""This artist is responsible for over 12 million track sales…and doesn't want to be famous." She also kept her back turned to the camera while performing "Chandelier" on The Ellen DeGeneres Show , The Tonight Show Starring Jimmy Fallon , and Jimmy Kimmel Live!
Sia, who also co-wrote Ne-Yo's "Let Me Love You," Beyonce's "Pretty Hurts" and Britney Spears' "Perfume," has been releasing albums since 1997, but the highest any of them climbed on the U.S. charts was #26.
Sia, whose birth name is Sia Furler, had no problem showing her face a few years back when she served as a mentor for Christina Aguilera's team on the first season of The Voice. The artist, who's struggled with addictions to painkillers and alcohol, as well as depression and various medical problems, decided with this new album that she didn't want to tour or do interviews to promote it. She even had that stipulation written into her contract with her record label.
"I don't care about commercial success," she told Billboard. "I get to do what I love and communicate whatever I want."
Follow @ABCNewsRadio Copyright 2014 ABC News Radio