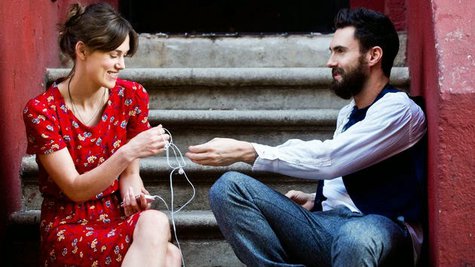 Adam Levine has garnered generally positive reviews for his movie debut in the film Begin Again , where he plays -- big stretch -- a rock star. He wants to do more acting, but he says he's somehow got to convince people that he can actually play other roles as well.
"I just wish somebody would believe I could play a non-musician," he complains to the New Yorker magazine . Asked if taking acting classes might help him, Adam replies, "Acting lessons are like a fire extinguisher in a glass case, and I don't think I'll ever need to get myself into an uncomfortable enough place to break the glass." Apparently, Adam thinks he's terrific without any formal training at all.
"There's natural qualities that I possess -- being at ease in front of a camera, and very moldable -- that I don't want to squash just yet," he says, explaining why he doesn't want to study acting. "I didn't learn my lines for the movie till the night before, or the morning of, and I did great."
If Adam sounds overly confident about his acting abilities, well, he's overly confident about everything in his life.
"In real life, I'm unapologetic. I am a confident person -- I don't think that's a crime," he tells the New Yorker . "It'd be arrogant to believe you're actually the sexiest man alive, but I do think my comfort with myself can come off as -- dare I f***ing say this? -- sexy."
It's pronouncements like that that lead many to dislike the Maroon 5 frontman, but he says at this point in his career, he has no problem with people thinking he's a jerk.
"Before [ The Voice] , people who didn't know me thought I was a bimbo, that all I could do was sing and date models," he says. "Now they actually know me, so when they say, 'You're an a**hole!,' I'm, like, 'O.K., cool!'"
Follow @ABCNewsRadio
Copyright 2014 ABC News Radio