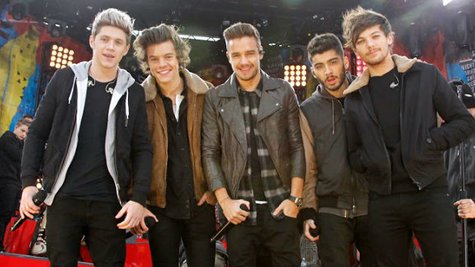 Usually, it's classic rockers who pull in the most money on the road, but a survey of concert grosses for the first half of the year by trade publication Pollstar finds that it's a group of young upstarts who are raking in the cash.
One Direction tops Pollstar's list of the Top 100 Worldwide Tours for the first six months of 2014, with a total gross of $131.5 million. They've made more money on the road -- with 31 shows in 17 cities -- than legends like The Rolling Stones and Bruce Springsteen. Worldwide, the Stones are #2, "only" bringing in $115.1 million, but they played far fewer shows than 1D, and their ticket prices are way higher: 176 bucks each versus 80 bucks on average.
The rest of the top 10 worldwide tours includes Justin Timberlake at #3 with $110.2 million, Springsteen at #4 with $64.9 million, Michael Buble at #5 with $62.2 million, and then country star George Strait , classic rockers The Eagles , Rock and Roll Hall of Famer Billy Joel , legendary diva Cher and, in at #10, Bruno Mars.
When it comes to the rankings for concerts only in North America , the picture changes. Strait is #1, followed by Billy Joel, Cher, the double bill of legendary singer/songwriters Paul Simon and Sting , Elton John , Celine Dion , Springsteen, the Cirque du Soleil show Totem and, in at #10 again, Bruno Mars. Just behind Bruno, at #11, is Miley Cyrus. One Direction doesn't appear at all, because the North American leg of their tour hasn't started yet.
Follow @ABCNewsRadio
Copyright 2014 ABC News Radio