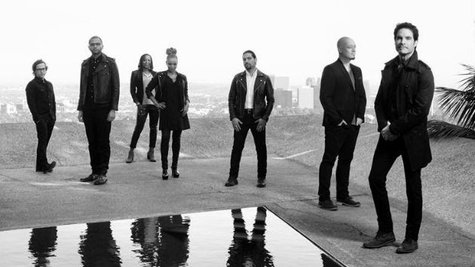 Some of Train 's recent singles have featured humorous lyrics, or incorporated unusual instrumentation such as ukuleles or a mariachi band. But the band's upcoming album Bulletproof Picasso is a big more straightforward, according to the band's guitarist.
Jimmy Stafford tells the Michigan City News-Dispatch , "There's a lot more up-tempo rock stuff on this record. It's a little more old-school Train. It's not quite as quirky. I think our older fans are really going to appreciate this record. We're really excited about it."
That's not to say that all Train fans won't enjoy Bulletproof Picasso , though.
"Personally, I think this is the best collection of songs that we've put on a record," he explains. "Everything feels like it's taken a step up. Musically it's our best record, production-wise it's our best-sounding record. It's the best lyrics Pat [Monahan] has written. and he's singing better than ever."
"It's exciting to be along as long as we've been and in my opinion, producing our best work," he adds.
While the band isn't officially on a tour to support the new disc, they are playing dates throughout the summer, as well as a couple of festivals in England, and Jimmy says this time before the album is out makes coming up with a setlist challenging for the band.
"This is always a weird time," explains Jimmy. "The single is out but the record isn't, so we don't want to play too much of it because people don't know it, but we at least want to play a song or two because we're excited about playing the new stuff." But, he adds, "You don't want to put a song no one has heard between 'Hey Soul Sister' and 'Meet Virginia' because it feels like a lull in the show. So it's tricky."
The band won't have that problem come September. Following the September 16 release of Bulletproof Picasso , Train will be playing a special series of shows in Los Angeles, San Francisco and New York to mark the occasion.
Follow @ABCNewsRadio
Copyright 2014 ABC News Radio