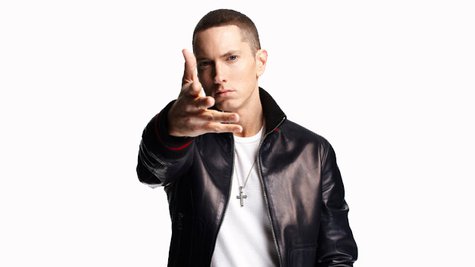 On Friday night, Eminem made history by becoming the first rapper ever to headline London's Wembley Stadium, and he didn't roll alone: Dr. Dre surprised the 80-thousand-strong sell-out crowd by appearing with his former protege.
The pair pounded through hits like "Nuthin' But a 'G' Thang," "Still D.R.E.," "Forgot About Dre," and "The Next Episode" on Em's opening night at the historic venue, which apparently suffered from some audio problems that drew fan complaints online. Wembley assured fans any audio issues would be ironed out by Saturday night, another sell-out performance.
The Mirror reports clean-and-sober Em brushed off invites from "the swankiest" London nightclubs that "were practically throwing themselves at him for the chance to host an after-party for him."
A spy reports, "More than a dozen [clubs], all insisting money was no object with promises of the wildest party he and his crew had ever experienced -- champagne, women, the works," came calling, but Em gave them the brush-off. "They were shocked when he said he just wanted to get out into the countryside for a touch of old England."

For the Detroit-raised rapper, that meant hanging his baseball cap at a place a world away from 8 Mile : historic Cosworth Park. The 18th-century spread features all the usual refinements, including polo grounds, and breathtaking views of hundreds of acres in a setting, "Evoking the timeless romance of the English countryside," according to its website .
Follow @ABCNewsRadio
Copyright 2014 ABC News Radio