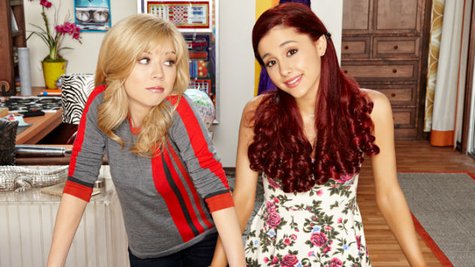 Before Ariana Grande was a chart-topping pop star, she was the star of Nickelodeon's Sam & Cat. Now that the network has announced the cancellation of the series, Ariana has taken to Facebook to post an extremely lengthy and heartfelt farewell to the show that made her famous.
" So the news is out about Sam & Cat," Ariana begins. I felt it wasn't my place to make any sort of announcement so I kept quiet until now. I want to thank Nickelodeon for making a childhood dream of mine come true, for being a family to me, for being so accommodating and supportive of my multitasking with my music career, and for of course introducing me to many of my fans however many years ago."
Speaking about her character, Cat, Ariana writes, "W hen I was younger, people loved Cat so much I used to pretend to be more like her. It took me a long time to be brave enough to separate myself and show people how different we actually are.... I think that's honestly because I admire her so much. Her appreciation for life and everybody she encounters...She always saw negative obstacles as opportunities to make things good."
Ariana goes on to say that she'll always hold the character "near and dear to my heart," adding, "She played such a huge part in my life I just wanted to express my appreciation for her and share some of the things I love most about her."
Ariana then goes on to enumerate those things, including the fact that Cat was never "afraid of anything or anybody," never let "people's judgements hold her back from doing what she wanted," never held back "her enthusiasm or joy for fear of appearing some sort of way," and never lost her "sense of wonder. ...To me that's the bravest, most special thing about her," writes Ariana.
Ariana goes on to speculate about future in which her character and another one on the show, Robbie, get married, and finishes by saying, "Thank you to my fans who have been with me since all of this started... you are the most loyal, dedicated and continuously loving supporters I could ever imagine. We've been through so much and you are still here... and we've got a long way to go."
Apparently realizing some might consider her note to be a bit long, Ariana wrote on Twitter, " Sorry for the very long sappy thing haha. I felt in my heart it was very necessary!"
Follow @ABCNewsRadio
Copyright 2014 ABC News Radio