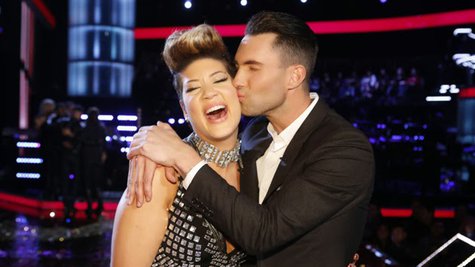 Not long ago, Adam Levine told Rolling Stone that The Voice had a problem translating its popularity as a TV show into album sales for its winners. The latest example of this worrying trend: the poor sales of the debut album from Tessanne Chin , the winner of The Voice season five.
Tessanne, a member of Team Adam, sees her debut Count on My Love enter the chart with just 7,000 copies sold in its first week, according to Billboard . That marks the lowest sales debut for a Voice winner thus far: first-season winner Javier Colon , also from Team Adam, had previously held that dubious record, with first-week sales of 10,000 for his 2011 post- Voice album Come Through for You.
Cassadee Pope and Danielle Bradbery , the winners of The Voice season three and season four, saw their albums debut at #9 and #19 respectively, but their first-week sales were very similar: Cassadee's Frame by Frame sold 43,000 copies, while Danielle's self-titled disc sold 41,000 copies. To date, season two winner Jermaine Paul hasn't released a debut album.
But now here's the good news. As disappointing as those sales may be, at least Tessanne managed to outsell her Voice coach's latest release. Billboard reports that the soundtrack to Adam's new movie Begin Again , which features him on a number of tracks, enters the chart at #44, with just 6,000 copies sold in its first week.
Follow @ABCNewsRadio
Copyright 2014 ABC News Radio