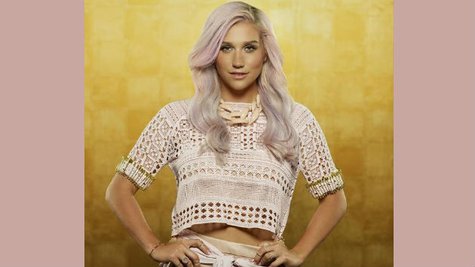 While Kesha looks healthy and happy Sunday nights on ABC's Rising Star, earlier this year, she hit rock bottom and checked into rehab to address an eating disorder. Now, she's penned an article about her experience for ELLE UK magazine, in which she explains that she realized she had to seek help because she felt like a hypocrite.
"I've always been a crusader for loving yourself, but I'd been finding it harder and harder to do personally," she writes in the article. "I felt like part of my job was to be as skinny as possible, and to make that happen, I had been abusing my body...in my heart, I knew that something had to change, so I made the decision to practice what I preach."
The singer goes on to say that she'd become "overly-critical" of her own body because of the music industry's "unrealistic expectations" about what women are supposed to look like. She became paranoid that photographers were lurking everywhere, looking to take photos of her and then post them online or print them, with the intention of "making me look terrible."
"I became scared to go in public, or even use the Internet," she reveals.
Kesha says she initially fought back by penning self-empowerment anthems like "We R Who We R" and "Warrior," but at some point, she writes, "Those words didn't ring true to me anymore. I felt like a liar, telling people to love themselves as they are, while I was being hateful to myself and really hurting my body."
Finally, mentally and physically exhausted, Kesha says she called her mom and asked for help. On January 2, she entered rehab, and even though she was "terrified" at first, after two months, she writes, "I really started to understand my own self-worth...I started to not worry so much about what other people thought of me." She knew she was ready to leave when she was able to face a pack of paparazzi at an airport, and feel OK when she saw the photos.
"I'm not fully fixed -- I am a person in progress," she concludes. "But I want to be be part of the solution, not part of the problem. Even I need to be reminded that we are who we are. And when I say that, I f**ing mean it, now more than ever."
Follow @ABCNewsRadio Copyright 2014 ABC News Radio