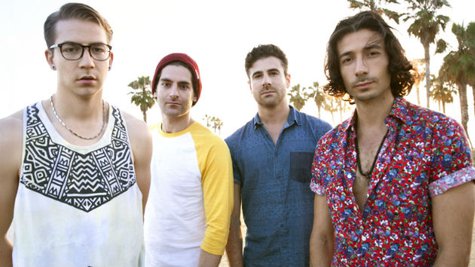 They've got one of the songs of the summer, and now MAGIC! has a top 10 album, too. The band's debut disc, Don't Kill the Magic , has entered the Billboard chart at #6, thanks to platinum-selling, ultra-catchy single "Rude," which the band says is so addictive, it's like a drug.
"I think people just love the sound and, you know, the catchiness and the reggae," MAGIC! frontman Nasri tells ABC News Radio, attempting to explain the appeal of "Rude," whose earworm of a chorus was inspired by a fight with his ex-girlfriend. He says, "It's just become, almost like, [as] my drummer Alex says, 'crack,' y'know? Everyone is just, like, addicted to the sound of it."
The unique sound of "Rude" is the sound of reggae, and Nasri says he and the rest of the band were exposed to a lot of it as kids in Canada.
"Growing up in Toronto, we did listen to everything, and reggae is a pretty big genre of music in Toronto because we have a big Caribbean [population] there," he tells ABC News Radio. "I've always listened to all kinds of music and reggae was just another one that I was dabbling with and this one stuck." But does he feel that the success of "Rude" has turned a lot of young kids onto reggae?
"I don't know, I mean, I guess we'll find out, right?" he says. "We'll see kids starting to listen to old [Bob] Marley records and old Police records" -- two artists who helped popularize reggae in the '70s and '80s -- adding, "That'd be great!"
The success of "Rude" is the fulfillment of a dream for Nasri, who before putting together MAGIC! was a behind-the-scenes songwriter who penned tunes for Justin Bieber, Chris Brown , and Pitbull -- in fact, he co-wrote Pit and Christina Aguilera 's smash "Feel this Moment." Now that he's famous himself, he's getting texts from Bieber and tweets from Pitbull congratulating him on becoming a star in his own right.
"They're musical and they're friends in this business and I've supported them and they're gracious guys and they're supporting me back," he says of the shout-outs from the Bieb and Mr. Worldwide. "I think it's like when LeBron James wins a title: I'm sure he gets a text message from other players saying 'Congrats,' or other coaches."
"Rude" has been #2 on the chart for quite some time, waiting patiently behind Iggy Azalea 's smash "Fancy." But Nasri says that Iggy's hit is his choice for a Song of the Summer other than "Rude" -- though he does have a specific reason for picking it.
"You know, I actually worked on Iggy Azalea's album. I wrote a song called 'Change Your Life' with her," he tells ABC News Radio. "So I like 'Fancy' and I like the competition between us, and she's attracting a lot of fans, so it's great."
Follow @ABCNewsRadio
Copyright 2014 ABC News Radio