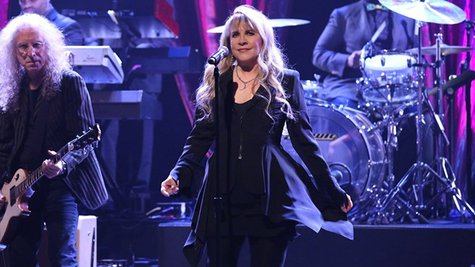 Adam Levine is enlisting the help of Stevie Nicks for the fall season of The Voice .
NBC announced Tuesday that Stevie will serve as an adviser for Team Adam during the seventh season of The Voice , which is currently taping.
The Fleetwood Mac singer and the Maroon 5 frontman sat down with Extra to discuss her role. Adam joked that he won Stevie over with "bribery, begging, pleading." Stevie played along and added, "Presents...fur coat, some beautiful shoes, sheets."
Stevie pointed out that she's appeared on The Voice before -- she sang "Landslide" during the season-one finale with eventual winner Javier Colon , who was a member of Team Adam. She said, "I won the first season, actually. I did! I flew in, barely made the show, no rehearsal, then Javier won. I looked at Adam and went, 'He won!'"
In past seasons, Team Adam advisers have included Aloe Blacc, Hillary Scott of Lady Antebellum , OneRepublic's Ryan Tedder , Mary J. Blige, Alanis Morissette and Robin Thicke.
The advisers for the other coaches -- Blake Shelton and newcomers Pharrell Williams and Gwen Stefani -- have yet to be announced. The Voice returns to NBC on September 22.
Follow @ABCNewsRadio
Copyright 2014 ABC News Radio