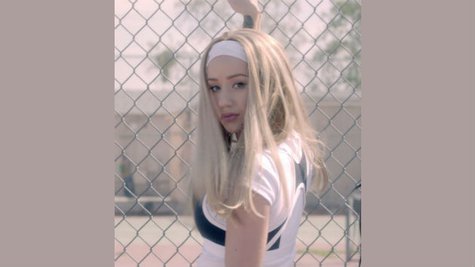 Another week, another step closer to a chart record for Iggy Azalea . Her hit "Fancy" is spending a seventh week at #1 on the Billboard Hot 100, and that puts her in elite company: only five other women have spent that many weeks or longer on top in the past decade.
With seven weeks on top, "Fancy" now matches the time spent on top by Adele 's "Rolling in the Deep." The only other women who've spent longer at #1 in the past ten years are Ke$ha , with "Tik Tok," Carly Rae Jepsen with "Call Me Maybe" and Lorde with "Royals" -- those were all #1 for nine weeks -- plus Rihanna with "We Found Love," which topped the chart for 10 weeks.
However, "Fancy" may not get another week, since "Rude" by MAGIC! is looming behind it, and may overtake it next week.
Meanwhile, after three weeks on the chart, "Maps" by Maroon 5 has now reached #9, giving the band its sixth straight top 10 hit. It's the latest link in a chain of smashes for the band that started in 2011 with "Moves Like Jagger" and hasn't stopped. Every single Adam Levine and the guys have released since then has reached the top 10. This is no accident: the streak perfectly coincides with Adam's appearance on The Voice.
Finally, Pharrell Williams ' smash "Happy," which was #1 for 10 weeks earlier this year, at last drops out of the top 10 this week.
Follow @ABCNewsRadio
Copyright 2014 ABC News Radio