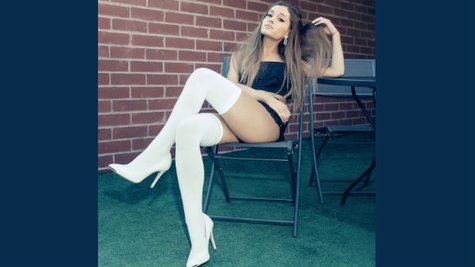 Ever since Ariana Grande broke through with her debut album, she's been compared to Mariah Carey , thanks to her impressive vocal range and tone. In fact, rapper A$AP Ferg , who appears on Ariana's upcoming album, just told MTV a few days ago that she's "the next Mariah Carey." But how does Ariana herself feel about the comparisons? She's not exactly complaining.
"No," Ariana told ABC News Radio when asked if she's tired of constantly being mentioned in the same breath as Mimi. "I mean, it's a massive compliment. It would be so silly to be like, 'Ugh, stop saying that!' Like, that's so stupid."
Ariana, whose new album My Everything is due next month, explains that she doesn't mind comparisons with Mariah, because if you're going to be compared to someone, it might as well be the best.
"You have to look at it what it is. She's the greatest singer in the world," Ariana says. "If somebody says that, I take it as a compliment." However, she points out, "I'm also very excited for people to discover that I have my own sound as well."
Ariana has just posted a snippet on Instagram of "Best Mistake,"one of her new songs from My Everything . She's also out with a Star Wars -inspired lyric video for her new single "Break Free," a collaboration with Zedd .
Follow @ABCNewsRadio
Copyright 2014 ABC News Radio