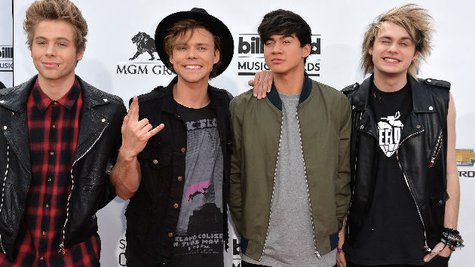 Last week, Ariana Grande revealed she'll be performing at next month's MTV Video Music Awards. Now another artist has revealed their involvement: 5 Seconds of Summer.
The Australian quartet will perform on the telecast August 24, live from the forum on Inglewood, California. Unfortunately, that means they'll have to cancel two of their planned performances opening for One Direction : August 24 in Dallas and August 27 in St. Louis, Missouri.
In a statement, the band says, "To have been asked and given this opportunity is incredible and we cannot be more excited about it...We are really sorry to everyone that was hoping to see us but we hope to come back, do some more shows and rock out for all of you soon!"
This will be the group's second high-profile U.S. TV appearance, following their performance at the Billboard Music Awards in May.
In other 5SOS news, the group's song, "Amnesia," is the top debut this week on Billboard's Digital Songs chart, selling 162,000 copies in its first week. It's the group's best sales week to date. Their full-length self-titled album is due July 22.
Follow @ABCNewsRadio Copyright 2014 ABC News Radio