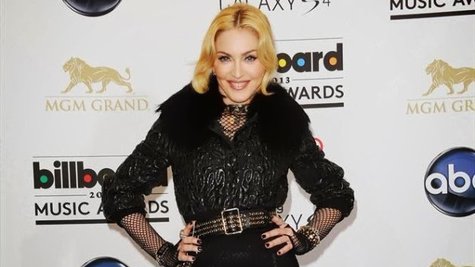 Last week, Madonna posted the sheet music for a new song called "Messiah," as well as a brief video of a group of classical musicians performing a snippet of the tune. Now, she's posted a selection of lyrics from the song.
"I am the promise that you cannot keep/reep [sic] what you sow/find what you seek," go the lyrics to one verse. "I am the sorceress down in the deep/I am the earth under your feet/I am the moon with no light of my own/You are the sun guarding the throne."
The rest of the lyrics: "I heard the angels whisper to me/look for the signs/he is the one/I'll light a candle here in the dark/making your way to my heart."
Madonna captioned the lyrics, " Salvation through Art! #heart #messiah #livingforlove ." There's no word on when we might hear this new music, though.
In other Madonna news, she reported for jury duty in New York City on Monday after postponing twice: once after Memorial Day weekend, and then again on June 30. ABC News has confirmed that she was allowed to arrive an hour late so as not to cause a distraction, and was escorted to a private room to meet with the county clerk.
"We're delighted she showed up," court spokesman David Bookstaver told ABC News. "It goes to show that if you get a summons you have to serve. Her showing up says that jury duty is a civic responsibility and it's not as onerous as it was 15 to 20 years ago."
Madonna posted a photo of the doorknob of the county courthouse on Instagram, and added the caption, " Serving my country! Reporting to jury selection! #itshotinhere ."
Follow @ABCNewsRadio Copyright 2014 ABC News Radio