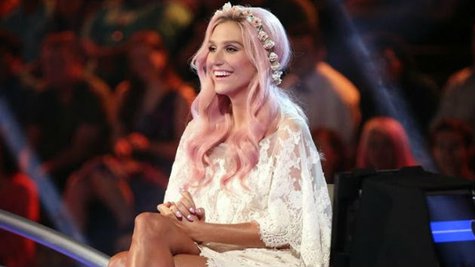 Kesha has said that she wanted to be on the panel on ABC's Rising Star because it kept her in one spot while she worked on new music. So what about that new music? Well, Kesha says she's keeping it under wraps, but says we should be prepared to hear something "really different" from her previous hits.
"It's all top secret, but it's fun and I'm really proud of it and I'm really excited about it," Kesha tells ABC News Radio of the new material she's been working on. "It's really honest and it's really vulnerable and it's really genuine and it's really different."
Well, Kesha's known for her upbeat pop anthems, which often incorporate elements of hip-hop and electronic music. So how big a musical departure are we talking about, here? "It is, in fact, pretty different, at least the stuff I've been working on so far," Kesha insists. "Who knows when or if you're ever gonna hear it, but it's very different."
Kesha's most recent smash was, of course, "Timber," her collaboration with Pitbull , which reached #1 while she was in rehab for an eating disorder earlier this year. Asked if she was surprised by the success of that tune, Kesha tells ABC News Radio, "I was! That song was, like, everywhere really quick, and I had no idea it was [gonna be that big]."
"The first time I was writing on it, and I heard the idea," she adds, "I was like, 'This is either really, really bad or really, really good, and I just don't know which side of the line it is!'"
You can see Kesha every Sunday night live on ABC's Rising Star , voting on the contestants' performances along with her fellow panelists Brad Paisley and Ludacris .
Follow @ABCNewsRadio
Copyright 2014 ABC News Radio