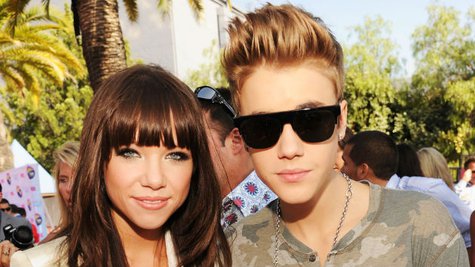 When they toured together, Justin Bieber and Carly Rae Jepsen sang a duet every night, but it wasn't Carly's #1 hit "Call Me Maybe"; it was another tune. However, the two Canadian singers did team up for a "Call Me Maybe" duet over the weekend: at the wedding of their manager, Scooter Braun .
As E! Online reports, Braun married Yael Cohen , a cancer activist, in British Columbia. On Monday, Justin posted an Instagram photo of himself posing with Yael, captioned, " Congrats Yael ;) u looked like a princess last night. And damn I can't believe Scooter found someone that puts up with his bs ;) love you guys. " Carly also Instagrammed a photo of the happy couple, writing, " Congrats to my friends @scooterbraun and @Yael What an unforgettable night!"
No wonder it was unforgettable: TMZ has posted a video of Justin singing the Beatles' "All You Need Is Love" as Scooter and Yael smooch, and also one of Justin and Carly duetting on "Call Me Maybe" at the wedding reception.
Justin also posted a couple of photos of himself posing with Ed Sheeran , who it appears was also at the wedding. Ed knows Yael Cohen, having once raffled off a date with himself to raise money for her cancer charity. Ed has also spoken in interviews about how he's a big fan of Justin's most recent release, Journals. Justin captioned the photo of himself and Ed, "@edsheeran is one of the only people on my iPod ."
Follow @ABCNewsRadio Copyright 2014 ABC News Radio
Unfortunately your browser does not support IFrames. Justin and Carly Rae Performing at Scooter Braun's Wedding