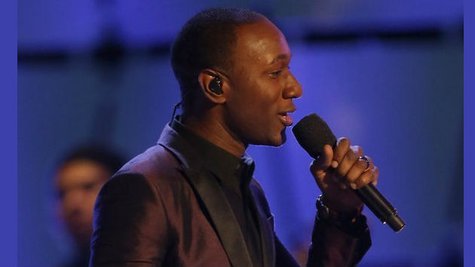 Aloe Blacc is going to get some extra mileage out of his current album, Lift Your Spirit. He tells Billboard that he'll be releasing a repackaged version of the disc sometime later this summer or perhaps early fall.
Turns out that the "Wake Me Up" singer recorded about 40 songs for the project, so different versions of the album had different track listings depending on the country. "We're going to get them all together and release all of the songs from across the world, so that everybody gets every song and no territory is complaining about not having any particular song," he tells Billboard .
In addition, Aloe says he's got so much material recorded that he'd like to release the follow-up to Lift Your Spirit early next year, but he's not sure if that's going to happen. He says it's up to his record label.
Aloe will wrap up his stint as Bruno Mars' opening act at the end of this month, but then you'll be able to see him on the silver screen: he's making his film acting debut in Get On Up , the upcoming movie biography of the late music legend James Brown , on August 1. He plays a guitarist named Nafloyd Scott , who was a member of Brown's band, the Famous Flames .
Follow @ABCNewsRadio
Copyright 2014 ABC News Radio