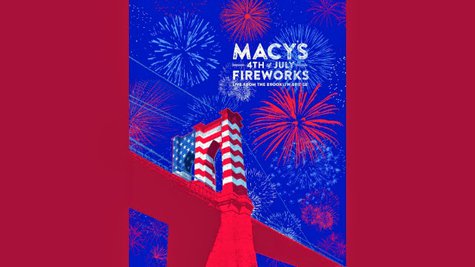 If you don't want to fight the traffic, or the mosquitoes, in an attempt to see fireworks on Friday night, you can stay inside and watch them on TV while being serenaded by your favorite musical stars as an added bonus. Which show to watch? That depends on which city you'd rather see celebrate the holiday. Here's who's performing where on TV this Fourth of July:
From New York, Macy's Fourth of July Fireworks Spectacular will air on NBC with host Nick Cannon . Performers include Enrique Iglesias , Ariana Grande , music legend Lionel Richie , and country stars Miranda Lambert, Zac Brown Band and Hunter Hayes . Spectacular fireworks will explode over New York City's famed Brooklyn Bridge during the special, which airs from 8-10 p.m. ET/PT, with an encore at 10 p.m.
PBS is airing its annual special A Capitol Fourth , live from the West Lawn of the U.S. Capitol in Washington, D.C. Hosted by Tom Bergeron , performers include two American Idol champs -- Phillip Phillips and Jordin Sparks -- as well as Kendall Schmidt from Big Time Rush , legendary singers Patti LaBelle , Michael McDonald and Frankie Valli of the Four Seasons , and the Muppets . The festivities begin at 8 p.m. ET, including a massive fireworks display.
VH1 and Palladia will both air the fourth annual Philly 4th of July Jam , live from Philadelphia's Welcome America! festival, billed as the largest free concert in America. Philly's -- and Jimmy Fallon 's -- favorite hip-hop group, The Roots , will perform and serve as the house band, backing up Jennifer Hudson , Aloe Blacc , Ariana Grande , Ed Sheeran , and Nicki Minaj. The show, hosted by Marlon Wayans , will also be live streamed on PhillyJam.VH1.com and the VH1 App. It runs from 8 p.m. to 11 p.m. ET. Look for the fireworks to explode over the Philadelphia Museum of Art.
Oh, and if you're wondering how Ariana Grande can appear simultaneously in Philadelphia and New York: she won't be. The musical performances for the Macy's show are generally recorded in advance.
Follow @ABCNewsRadio
Copyright 2014 ABC News Radio