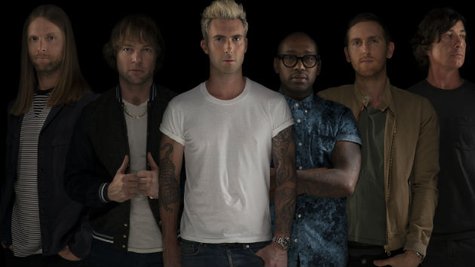 Maroon 5 hasn't announced a full-fledged tour yet, but they're doing a few dates here and there, including a Fourth of July performance in West Virginia during the Greenbrier Classic, a big golf tournament. The band is excited about the gig because, as guitarist James Valentine explains, they've all become golf addicts thanks to Adam Levine .
"This is going to be amazing," James tells ABC News Radio about the gig at the tournament . "Adam's gotten all of us into golf now, pretty much, except for Mickey [ Madden , our bass player]. We're not gonna get Mickey on the golf course anytime soon." But James says the fact that most of them are now hitting the links has enabled them to strengthen their relationships.
"It's funny, like, golf has become a great thing for the band, because we don't generally just hang out," he explains. "But now that we golf, we spend a lot more time together, and it's just like...It's just a sign of us getting old, I guess!"
James says after years of being a working musician, he doesn't even mind having to work on the Fourth of July, rather than kicking back with a beer and a hotdog at a barbecue somewhere. "It's kinda like, July Fourth and New Year's Eve, we're generally working, and that's kind of been the case from before I was in Maroon 5," he notes. "That's when people wanna hire musicians, so I'm used to it. I like it."
No doubt Maroon 5 will perform their new single "Maps" at the gig. The track has been a huge hit right off the bat, and James says he thinks it's because it sounds a lot like their previous hits -- and like a legendary band from the '80s, too.
"I think it's definitely, unmistakably the Maroon 5 sound that people expect," he tells ABC News Radio. "It definitely has a strong influence from The Police, which has kind of always been one of our things. And we're just happy that it's out! It seems sort of quick that it's already out -- it seems like just weeks ago we were finishing the mix!"
"Maps," which was co-written by, among others, Adam and OneRepublic 's Ryan Tedder , is the lead single from Maroon 5's upcoming album V, which is due in early September.
Follow @ABCNewsRadio
Copyright 2014 ABC News Radio