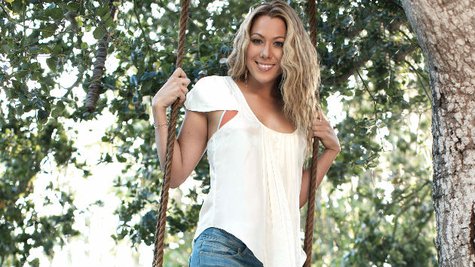 On Wednesday, Colbie Caillat released a lyric video for one of her new songs, " Live It Up ," which is about conquering your fears. To illustrate this point, the video features footage of her skydiving, but she admits she used footage of her second dive of the day...because she just looked way too unattractive during the first dive.
"I wanted it to be something fun and crazy and something no one else has done for a video before," Colbie she tells ABC News Radio. "And I was like, ''You know what, I want to go skydiving again, somewhere beautiful.' And...I chose not to wear a jumpsuit the first jump, and it was so embarrassing! I might end up, like, putting it out at some point, but I'm too embarrassed by it!"
Why was it so embarrassing? Because it turns out if you jump out of a plane without a jumpsuit on, the effect of the wind against your body causes your skin to flap up and down wildly, and it looks, well, weird.
"You know, skin flapping in the wind is not very attractive!" Colbie laughs. "My friends watched it and were crying. It was hilarious! So, that being said, I re-jumped and I wore a jumpsuit. So, it looked a little bit more normal."
Colbie had jumped out of a plane once before, in Hawaii, but she said this time around, she felt a little differently about it. "I was terrified!" she tells ABC News Radio. "The first time I'd ever jumped I loved it, and then this time I was really scared...it's really liberating, though. It's fun."
Colbie plans to release lyric videos for all the songs on her newly released EP, Gypsy Heart -- Side A. It's a preview of her upcoming full-length album, Gypsy Heart, which is due later this year.
Follow @ABCNewsRadio
Copyright 2014 ABC News Radio
Say what? @ColbieCaillat goes skydiving in her new #LiveItUp lyric video! WATCH http://t.co/20V2dCCYaA pic.twitter.com/e9P9CZuMpB

— MetroLyrics (@MetroLyrics) July 1, 2014